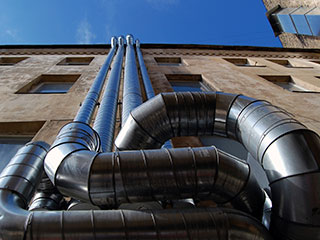 Poor indoor air quality is often caused by dirty air ducts. The ducts transfer the air used by ventilating and HVAC systems. If it's not clean, your indoor environment will be attacked by allergens. We assure you that we have top experts on our team and the capacity to inspect and clean both ducts and HVAC units.
Air Duct Sealing & Repair Services Increase On Energy Saving
We have been offering air duct cleaning services for years and always make sure our team works with diligence and new age equipment. The results of our services will have great effects on your health as well as on your pocket. Thanks to our efficient duct, HVAC unit and ventilation cleaning services, the air will be clean and all systems will work better and last longer. Energy loss is prevented thanks to our air duct seal repair service and we also repair the air conditioning unit and replace the dryer vents.
Avoid Health Problems Of Your Employees By Clean Duct & Ventilation
In business, you have thousands of things to worry about every day. Indoor air quality is a "silent" factor that can play into all of them. Have your employees been taking more sick days lately? Do you find yourself coughing, sneezing, out of breath, or getting "tension headaches" when you're in the office? All of these could be signs of air pollution inside your building. Commercial air duct cleaning will eliminate the plaque of filth that can build up in your duct system and cause problems.
Local Costa Mesa Team For All Kinds Of Duct Cleaning Services
Our Costa Mesa commercial air duct cleaning service is the one trusted by businesses throughout Orange County. One reason is because our service technicians are professional specialists, not "general" handymen. We have the detailed, factual knowledge to provide you with an efficient solution. That can include cleaning, repair, or complete air duct replacement in cases where part of your duct system is compromised.
Commecial/Office Heating & Cooling Systems Cleaning
Even if you've never thought about air duct cleaning for your business, you'll find it's an investment that pays for itself. Costa Mesa commercial air duct cleaning can make your entire premises easier to heat and cool, which will save you money. If you opt for a total vent replacement, we can serve you by ensuring your new vents are the latest model: a more efficient and "dirt resistant" duct than ever before.
Prevent Indoor Allergens By Regular HVAC System Cleaning
When you call us, you can select from these specialty services:
air duct cleaning business services;
commercial dryer vent cleaning;
dryer vent cleaning business services;
restaurant dryer vent cleaning.
Air duct cleaning is a job for professionals, not "handymen." You'll see the difference we bring to you in customer service, flexibility, and a total dedication to excellence. To learn more, please call us at our local number below.