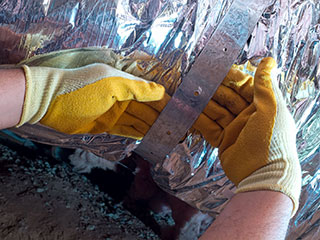 It is true that proper air duct maintenance will reduce the risk of damage and performance issues to the very possible minimum. However, it will not eliminate this risk completely. That is why you should be able to identify issues in a timely manner and provide the required repair. When the job is done properly and on time, you will have an effectively working HVAC system and ensure the safety of your loved ones.
Inspection Is Essential for Identifying Issues
Sometimes, it is obvious that air duct repair is required. If any of the heating or air conditioning units in the house is not working properly, this is a sure sign of trouble. Similarly, if there is dust blown into the rooms of your home, you should take action to identify and problem and fix it immediately. However, in many cases the issues are not that obvious. The only way in which they can be pinpointed is through thorough inspection.
Regular HVAC Maintenace Is Crucial
It is best if the entire system is inspected as part of the regular HVAC maintenance process. The ductwork, the vents, the filters and all other components have to be checked thoroughly. The same applies to any sealing and insulation. Even though these are not integral components of the system, any damage in them can cause much greater damage to the system itself.
Air Duct Leaks Increase Energy Consumption
Any air leaks must be sealed immediately. Otherwise, the energy efficiency of the system will become lower forcing you to waste a lot of money on expended energy. If existing seals have become damaged, air duct seal repair will be needed. If dirt has accumulated inside the ductwork, air duct cleaning will be necessary. The vents and filters have to be cleaned as well if they have clogged. Any filter which has severely clogged or permanently damaged must be replaced.
When adequate repairs are made on time, the air ducts and the entire system will function properly and cost-efficiently for many years to come.