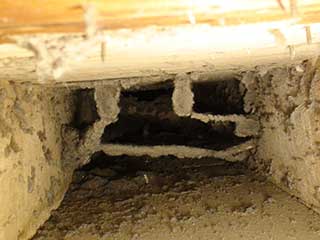 Air duct cleaning is certainly not a routine weekly task but it is definitely necessary. In fact, if the cleaning of the ducts is combined with the cleaning of the HVAC system, the results will be awesome and the efficiency of the system will be great. Some have their doubts about the health implications caused by dirty ducts but then again who wants to take risks? On top of that, consider that air duct and HVAC unit cleaning will have more benefits, which are all worth taking into consideration.
Air Duct Cleaning For Fresh Indoor Air
Have you ever seen how dirty ducts look like? There are high concentrations of dirt all over the duct walls due to their old age. Nearby constructions and house remodeling will also release large amounts of dust. Old ducts won't only need cleaning but also air duct repair since they're not always sealed well and cracks will allow air loss. High humidity will also build up mold and its bad odor will be transferred to your home. This is also one of the reasons why you should keep the ducts clean and if you want to avoid high concentration of dust in the house, you should also replace air duct filters and wash them regularly.
Consider Whether You Need Duct Cleaning
So, are you now convinced that air duct maintenance is necessary? If you are wondering about your own ducts, take into account your living conditions.
Do you feel nausea, headaches or sick when you turn on the HVAC system?
Did you remodel the house recently or is there a construction in progress close by?
Is your furniture permanently dusty?
Does your HVAC system have a hard time producing the expected temperatures?
Does your house smell bad?
Did you find insects or rodents in the ducts?
Did you buy your house recently?
Servicing air ducts means keeping them clean and repaired. Consequently:
You will see improvements in your health
Avoid dust and contaminated atmospheres
Enjoy good temperatures
You won't need HVAC and air duct replacement any time soon
The air-conditioner will work at its best
You will stop paying big bills.
Do you need any more reasons?