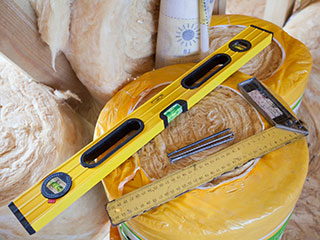 Installing Attic Insulation
You don't have to be an expert in physics to know that most of the heat generated inside a house is lost through the roof. That is why the installation of insulation in the attic is essential for keeping your home warm and your energy bills low. When we take up a project, our first job is inspecting the attic. This gives us a clear idea of what type of insulation is best. In some cases, two layers of different materials are used for achieving the desired results. For instance, loose fill may have to be covered with blankets. If our check reveals any leaks, we repair them in the first place. This ensures that the highest level of thermal resistance is reached.
Wall Insulation for Greater Energy Savings
A house with properly insulated attic and walls will be highly energy-efficient, especially when proper HVAC maintenance is provided too. This will give you greater comfort and save you a lot of money. Our team will help you select the best type of insulating material for your home, based on R-value and overall quality. In some cases, it is possible for foam to be filled between the interior and exterior walls. In other cases, only rigid panels will work. With proper installation, we will ensure that the insulating material will do its job effectively for a long time to come. You will not have to worry about anything with our insulation services.
So, what are you waiting for? Give us a call today!com